Wednesday, April 24, 2013
BotQueue v0.3 - Now with Webcams, Pausing, and More!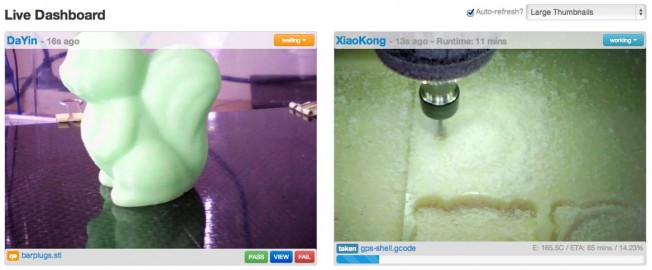 Coming quickly on the heels of the last release, the latest v0.3 release of BotQueue adds some really exciting new features that make it much nicer to use. The coolest new feature is webcam support. The client can now upload pictures of your machine while it is printing and show it on the BotQueue.com website. This means you can watch and control your bot from anywhere you have an internet connection using any device you want - computer, laptop, smartphone, or tablet.
Read more about it on the
release post
or head over to
BotQueue.com
to try it out. Works great with RepRap printers. 100% open source guaranteed.
Thursday, April 04, 2013
Inside 3D Printing Conference & Expo
The
Inside 3D Printing Conference & Expo
, April 22-23 in NYC, has attracted 3D printing companies, professionals, industry leaders, and hobbyists who will meet to discuss the latest topics and advancements in the ever-evolving 3D printing field.
You'll hear presentations by leaders in the field—Avi Reichental, President and CEO of 3D Systems, Hod Lipson, associate professor at Cornell University and coauthor of Fabricated: The World of 3D Printing, and Ofer Shochet, Executive VP of Products at Statasys.
View the full agenda here
.
Featured Session:
How Professional Investors Are Playing the 3D Printing Boom
A panel of venture capitalists, including professionals from T. Rowe Price Associates, Lux Capital, RRE Ventures, and Piper Jaffray, will explore where investors are placing their bets. You'll learn what types of startups VCs are interested in funding and where to invest your own money in this emerging industry.
The event's exhibit hall and networking reception will provide attendants with an exciting opportunity to meet face-to-face with companies in the space.
Reprapers will save 15% off gold passports to the event with the code: RRP15. For the best rates,
register today: Thursday, April 4.